Full Text
Idiopathic pleuroparenchymal fibroelastosis (IPPFE) is widely recognized as a specific entity belonging to idiopathic interstitial pneumonia1 and is usually characterized with progressive exertional dyspnea and pneumothorax.2 There are no previous reports of an IPPFE case with recurrent pneumothorax and bilateral pleural effusion.
Here, we reported an unusual IPPFE case with recurrent pneumothorax with bilateral pleural effusion. A case of a 28-year-old female, non-smoker was initially admitted to our hospital due to dry cough and progressively worsening dyspnea. High resolution computed tomography (HRCT) revealed pneumothorax in the right upper zone and consolidation in the bilateral upper zone (Fig A–D). Biopsy of right upper lobe and right pleura revealed obvious fibrosis and elastosis in thickening pleura and subpleural parenchyma, which were in keeping with IPPFE (Fig E–H). 5 months later, the patient was re-admitted for progressive hypoxaemia and respiratory distress (Fig I–L). Imaging showed bilateral apical pleural thickening with concurrent bilateral pleural effusion. Following antibiotics therapy and oxygen therapy for a week, she was discharged after the return of stable vital signs. However, she suffered from gradually worsened wheezing and died on the 120th day after discharge from the hospital.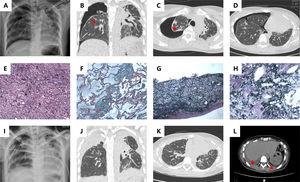 Figure.
(A) Chest radiograph shows pneumothorax on the right side; High resolution computed tomography (HRCT) coronal (B) and axial (C) show pneumothorax on the right side, bilateral pleurae thickening and subpleural parenchymal consolidation (red arrow); (D) HRCT shows that the fibrosis and consolidation are scanty of the lower lobes. (E) Section of pleurae biopsy (H&E stain ×100) shows the thickened pleura; (F) Masson's trichrome stain (×100) demonstrates dense fibrosis in subpleural lung parenchyma; (G) Elastic Van Gieson (EVG) stain (×100) highlights excessive elastin fibers deposition in pleura; (H) EVG stain (×100) reveals subpleural lung parenchyma. (I) Chest radiograph shows peumothorax on the left side; (J) HRCT coronal plane shows progressive bilateral pleurae thickening; (K) HRCT axial plane exhibits increasing linear and patchy opacities in the lower lobe; (L) HRCT exhibits bilateral pleural effusion (red arrow).
(0.37MB).
In conclusion, IPPFE should be considered if a case presents with bilateral pleurae thickening and subpleural parenchymal lesions with an upper lobe predominance. Elastin fiber stain should be performed routinely in patients with the clinical and radiological features of IPPFE, if biopsy specimen can be obtained. Pleural effusion may implicate disease progression and poor prognosis.
Ethics approval and consent to participate
The study was conducted in accordance with the principles of the Declaration of Helsinki and Good Clinical Practice guidelines. The study was approved by the Ethics Committee of Tianjin Chest Hospital. Written informed consent was obtained from individual.
Consent to publication
Written informed consent has been obtained from the relative of the participant, who is approved the publication of the manuscript with anonymity.
Availability of data and materials
All data generated or analyzed during this study are included in this published article.
Conflicts of interest
The authors have no conflicts of interest to declare.
Funding
This work was supported by the fund of Tianjin Chest Hospital (2018XKZ29).
Authors' contributions
YXZ and YCL input into the concept and design of the study. LY, HM and YZ analyzed imaging data. YXZ, LY, YCL analyzed the medical file and wrote the manuscript. All authors have read, revised the manuscript and approved the final version.
References
[1]
Y. Enomoto, Y. Nakamura, Y. Satake, H. Sumikawa, T. Johkoh, T.V. Colby, et al.
Clinical diagnosis of idiopathic pleuroparenchymal fibroelastosis: a retrospective multicenter study.
Respir Med, 133 (2017), pp. 1-5
[2]
F. Chua, S.R. Desai, A.G. Nicholson, A. Devaraj, E. Renzoni, A. Rice, et al.
Pleuroparenchymal fibroelastosis. A review of clinical, radiological, and pathological characteristics.
Ann Am Thorac Soc, 16 (2019), pp. 1351-1359
Copyright © 2020. Sociedade Portuguesa de Pneumologia